Anika Gardenhire Shares Why It's Important to be True to Yourself
Transforming Communities
03/25/2022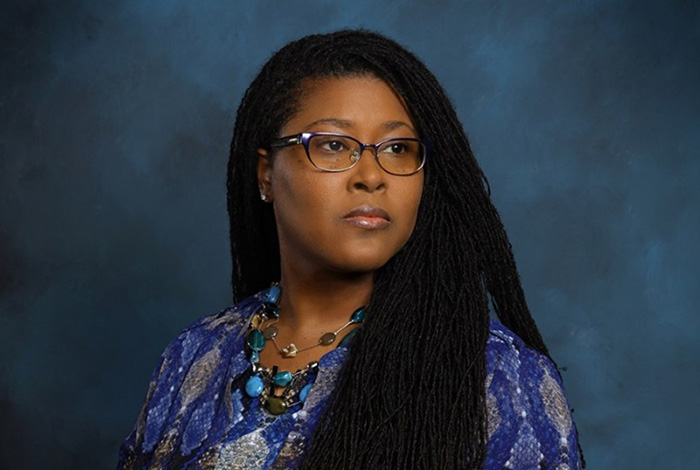 This Women's History Month, Centene is highlighting women leaders who are making a difference every day. Anika Gardenhire, Regional Vice President, Digital Solutions and Products, joined Centene in 2020. A registered nurse, Anika focuses on digital transformation and Centene's Value Creation strategy to continually improve how we serve members, providers, and other customers. In the following Q&A, Anika spotlights her background and role, perspectives on intersectionality, and the importance of being true to yourself.
Q.    Tell us about your background, your career at Centene, and your current role as Regional Vice President, Digital Solutions and Products?
A.    I'm a registered nurse. I practiced in cardiovascular recovery (immediately post open heart) and cardiovascular ICU. I consider myself a nurse first, and by that, I mean, while my career has been wonderfully diverse, I am always anchored on the driver that what I want to do/be is a caregiver — someone who does work that supports the well-being of people. I am very fortunate to be doing that work with the exponential impact that technology allows.
Our department scope is: "Deliver the business capabilities enabled by technology" (digital solutions and products) for the business to be able to successfully deliver against its healthcare enterprise goals, business operations, and regulatory demands. We accomplish this by creating business cases that support investment, delighting key business stakeholders — prospective and actual members, prospective and actual providers, broker, government, and internal client operators/users — along their journeys and interactions with Centene. We also drive the highest possible value creation — experiential, financial, and competitive differentiation — from the company's comprehensive portfolio of digital solutions and products.
Q.    What is the most meaningful part of your job?
A.    The most meaningful part of my job is the opportunity and responsibility to ensure our member populations show up in healthcare's digital transformation. Whether it is how we develop new solutions, how we partner, or who we choose to buy from through our supplier diversity initiatives, we are doing the work of ensuring that we build, buy, and partner in ways that center around the vulnerable members we serve every day. Because we are doing that work, we ensure that we use solutions that are centered around our very specific consumers. It is a very humbling and unique opportunity to serve in this manner. I also feel a particular obligation to ensure our solutions have health equity at the forefront of development and that we are the best at ensuring we have bias-checking in our digital solutions and products. We must be the absolute best at understanding that the exponential impact I mentioned can be both helpful and harmful. We must ensure it is always a benefit. 
Q.    Who influenced you most during your career and why?
A.    First, my mother and grandmother. I am incredibly fortunate to have been surrounded by incredibly strong women. My mother and grandmother instilled in me the core values of leadership work ethic, never underestimating the value of being a nice human being, knowing how to listen, and as my grandmother would say: "Everything goes down better with a little bit of honey on it."
My mother let me believe I could do or be anything, while helping me understand I may have to climb through windows when doors are not open, and I may have to work harder or wait longer, but I only fail if I quit. I also had a simply amazing mentor — Mordia Bryan-Salmon. Mordia was an amazing nursing leader from Jamaica. I met her as a young travel nurse in Los Angeles. Mordia had been in clinical leadership for years when we met. It was the first time I was seeing a nursing leader who looked like me. I am a first-generation college graduate, and Mordia took me under her wing not only as a mentor, but she made me family. She gave me my first leadership opportunity, and in the best and most authentic way, showed me how I would need to "show up" to continue to grow. I continue to be incredibly fortunate to have wonderful mentors and sponsors surrounding me, and I am humbled and forever grateful for what I consider one of the greatest gifts — time.
Q.    What advice do you have for aspiring female leaders?
A.    One of the best pieces of advice given to me early in my career was first, know who you want to be, then focus on what you want to be. I consider myself a relatively ambitious person, and I think a drive for growth and lifelong learning are traits we have opportunities to better cultivate in female leaders. Speaking what you want into existence can still be a tightrope female leaders have to walk, and it is not always celebrated as readily as it could be. But I think knowing where you want to be and having a plan for how you will get there is incredibly important.
Mapping out your network, mentors, and sponsors to support you along your path is not calculating – it's good planning. Understanding what you have to give back to those who will invest in you is just as important. But again, the most important thing I think I have tried to cultivate as I've grown is a sense of self. Working to know my boundaries and ensuring on the other side of every storm, opportunity, and new experience, that at the core of it all, I'm still me.
The values my mother and grandmother instilled in me are core to my being, and I try my best to ensure how I choose to treat people every day would make them proud. I focus on those things as a very real part of my career plan.
Q.    How is Centene's approach to diversity, equity, and inclusion different from other companies?
A.    The approach is very real and a part of the fabric of the organization. When I look at our Diversity, Equity & Inclusion Councils and things like Courageous Conversations, they can appear similar to other organizations on the surface, but when you realize that those councils are sponsored and supported by the highest executive leaders and that we build this work into the very fabric of the company from hiring to supplier diversity, you realize how unique we are in our approach. I am honest enough to say out loud that we as a company, a nation, and society have so much more work to do in this space. I believe it is real work that will only create change through dedication of real resources to making this shift. We are doing the work with dedicated leaders who work very hard to hear the voices of those impacted most by these efforts. 
Q.    Can you talk about the importance of intersectionality and how can we use an intersectional lens to enhance care to our members and the communities we serve?
A.    I simply love this question. I think the best lesson we have to learn from intersectionality is that people are not one thing. People are multifaceted, and the causes we support and programs we need to support our members must be as multifaceted and personalized as possible. I believe that personalization will be the great differentiator for organizations over the next 10 years. It requires we start with understanding, and understanding more than the three to five boxes we often want people to check. We must have contextual information about individuals and create personalized services to support the whole person.
We have an obligation to ensure that the things that make us unique show up in our care. We have to deeply understand why health outcomes impact one group of people differently from another, and we have to ensure that we perform things like "segmentation" or population intersections in culturally sensitive and non-biased ways. In essence, we have to go beyond the boxes to see, respect, and value the differences and personalize our services accordingly. 
Q.    What are your thoughts on the significance of Women's History Month?
A.    Similar to Black History Month, I think it is a wonderful time of reflection and gratitude for those who forged paths for women, men, and non-binary alike. I also think it is a great time to take stock and ask ourselves as women: "Are we doing enough to support the women around us? Are we showing up not only as mentors, but also as sponsors for the women we know and those we do not?" It is an opportunity to adjust depending on the answers.