Centene Launches 'Get Healthy' Video Series in Partnership with NBC Learn
Innovations & Initiatives, Health & Wellness
04/03/2019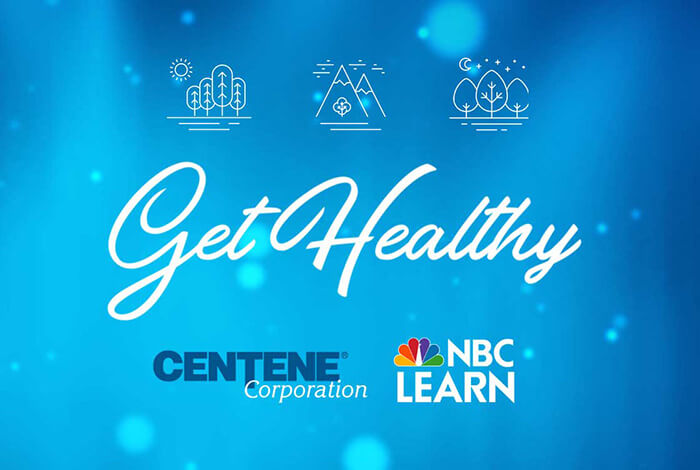 Centene Corporation recently partnered with NBC Learn to develop a series of ten videos to help build awareness among school-age children about the importance of adopting healthy habits from a young age. With the right tools and information, the series aims to make small steps toward healthy living achievable.
The "Get Healthy" series is centered on general health information, offering scientific explanations for how our minds and bodies work. Instead of lectures and explanations, animations and easy-to-understand demonstrations help children understand the science behind health concepts.
Featuring NBC News anchor Morgan Radford, the eye-catching and informative videos will be aired by NBC affiliates and are hosted online. In addition to Radford's commentary, medical experts were interviewed on topics ranging from nutrition and hydration to screen time and healthy relationships.
Centene's chief medical officer and executive vice president, Dr. Ken Yamaguchi, and Centene's vice president of innovation and preventative health, Dr. Gloria Wilder, were among a number of health experts featured in the video series. They offered on-camera insights on the factors of a healthy diet, how to keep your skin healthy, the dangers of too much sugar and salt, and the importance of exercise.
By emphasizing that anything that keeps your heart rate up counts as physical activity, Dr. Yamaguchi hoped to simplify the concept of exercise for a younger audience. Instead of relegating physical activity to a PE class or recess, he made sure to point out that playing games with friends or walking the dog counted toward a daily dose of exercise.
In the "Healthy Diet" video, Drs. Yamaguchi and Wilder helped explain the five major food groups and why it's important to eat a balanced diet. The health experts used kid-friendly language to emphasize healthy choices, narrate visual representations of too much sugar and salt, and explain how food gets turned into fuel for growing bodies.
Centene is delighted to provide this resource to children and parents around the world. Promoting a better understanding of common health-related issues is a natural extension of our purpose-driven work. All ten videos and a host of additional health-related resources can be found on NBC Learn's online platform and on our YouTube channel, and you can watch Drs. Yamaguchi and Wilder's features in the videos below.