Prioritizing Inclusivity in Healthcare: A Q&A with Centene's Vice President of Innovation and Health Transformation
Health & Wellness, Business
03/12/2021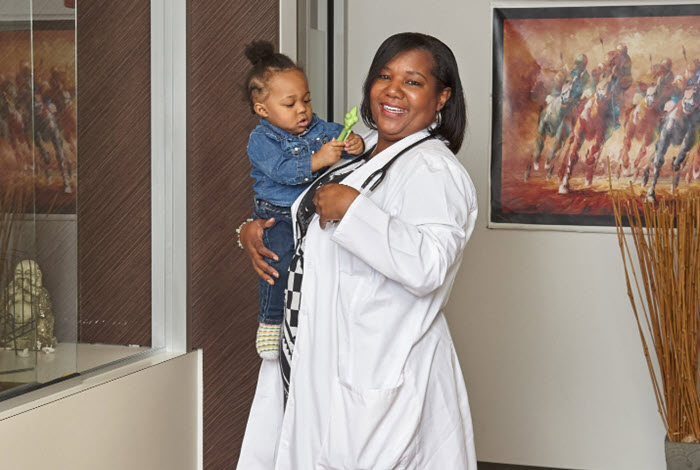 Centene's dedication to delivering high-quality, culturally-competent care is central to our purpose of transforming the health of the community, one person at a time. That work begins with our inclusive culture and focus on embracing and leveraging the diverse talents, perspectives, and experiences of our employees.
​Dr. Gloria Wilder, Vice President of Innovation and Health Transformation, has been instrumental in enrolling one of the largest cohorts of minority/rural participants in any novel coronavirus study outside of vaccine trials. Our Centene Health Equity and Wellness Council, for which Dr. Wilder serves as corporate lead, will further enhance Centene's leadership and commitment to ensuring vulnerable populations have access to quality healthcare.
In honor of Women's History Month, we celebrate the contributions of our female leaders to Centene's workforce and their communities. Excerpts from an internal Q&A with Dr. Wilder are below:
Q.        Centene's workforce comprises 75% women and 55% of our director level and above. How important do you believe it is to promote gender and race parity in the workplace?
A.         I am in my twenty-seventh year as a physician. When I entered Georgetown Medical School in 1989, I was one of two African American students accepted into a class of more than 200 students. When I was accepted, Black female physicians made up 1.6% of all physicians in the United States. In 2021, we make up 1.9% of all physicians in the U.S. These numbers have not significantly changed even with the American Medical Association publically apologizing for and committing to improving enrollment of minority and female students in 2008.
Over 27 years, I have gotten used to being the only one in the room, but I will never get comfortable with this fact. Diversity, Equity, Inclusion are not slogans — they are actions. At all levels and in all forms, we must continue to work collectively to create an environment that reflects the demographics of the communities we serve. These actions do not happen spontaneously. They require honest dialogue about the barriers that have fostered inequity. They also require that we acknowledge gender, sexual orientation, ethnicity, race, religion, mental and physical difference, and other structural biases that are pervasive in our industry. By changing our industry, we will impact other industries. To paraphrase Dr. Martin Luther King Jr., "Of all forms of inequality, injustice in health is the most shocking and inhumane." Dr. King was talking about access to quality care. We know this statement also holds true for access to quality employment within the healthcare industry.
Q.         What are your thoughts regarding the COVID-19 pandemic, the vaccine, and Centene's role to provide access to quality healthcare—particularly during this time?
A.         This pandemic has changed how the world views health and healthcare. Families like mine have suffered the burning sadness of losing loved ones at a time when all persons are susceptible. While we have to endure the daily trauma of COVID-19's impact, the resilience and recovery seen in communities at greatest risk leaves us hopeful. In March 2020, we launched the Minority and Rural Coronavirus Impact Study. We saw early data coming out of states demonstrating a four- to six-fold increase in morbidity and mortality in minority and rural communities from COVID-19. We designed a research study to look at the causes of the disparate outcomes and to evaluate ways of reducing both morbidity and mortality.
Our early data is already teaching us important lessons, lessons that we had the privilege of presenting to our federal partners. Our five-year study will follow these participants, including tracking the impact of vaccination on them and their families. Across all segments of Centene, we saw people rising to the challenge of supporting our nation through this crisis, from the donation of millions of pieces of personal protective equipment (PPE) to staff volunteering to participate in mass screening events, and now, staff stepping up to ensure all who need and want a vaccine can get one. I am proud to be part of this team.
As Dr. Wilder so compellingly reminds us, Centene has a responsibility to provide the best-possible healthcare to those we serve. Learn more about the solutions we offer to underserved communities and how we foster an inclusive workforce.
*Lead photograph by Jeff Elkins/Washingtonian