Chairman, President and Chief Executive Officer of Centene Corporation
Michael Neidorff is Centene Corporation's chairman, president and chief executive officer. A recognized leader in the industry, he is committed to building a multi-national healthcare enterprise while upholding Centene's local approach to healthcare. He demonstrates a history of successfully implementing programs and services under Medicaid, Medicare, and commercial managed care. Under his leadership, Centene has grown from a $40 million corporation to a publicly traded (NYSE: CNC), FORTUNE® 100, diversified, healthcare enterprise.
Michael Neidorff became president and chief executive officer of Centene Corporation in 1996. The company established operations in all 50 states – to become the largest Medicaid managed care organization in the U.S. and the top insurer in the Health Insurance Marketplace. Revenues are expected to exceed $114 billion in 2021. Centene now delivers high-quality and accessible healthcare to nearly 1 in 15 individuals across the nation.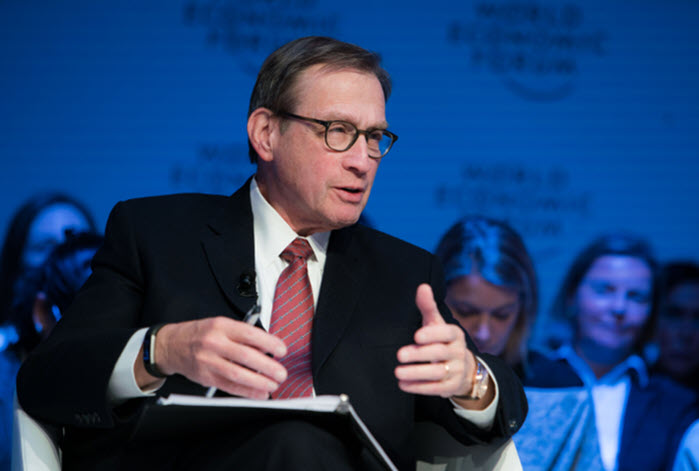 Michael Neidorff speaks at the 2019 World Economic Forum in Davos, Switzerland.
Centene provides accessible, cost-effective coverage to the rising number of under-insured and uninsured people in communities across the U.S. Under Mr. Neidorff's leadership, Centene has expanded from operating Medicaid health plans solely in Wisconsin and Indiana, to operations in every state, serving more than 25 million managed care and TRICARE eligible individuals.
Mr. Neidorff's record of transformative leadership is proven in the healthcare industry. In 1985, he started Physicians Health Plan of Greater St. Louis, a subsidiary of UnitedHealth Group. He served as the president and chief executive officer from 1985-1995, and grew the plan to be one of UnitedHealth Group's most successful and profitable plans in the country. From 1995-1996, he served as the regional vice president of Coventry Health Care, Inc., a publicly traded managed care organization, and as the president and chief executive officer of one of its subsidiaries, Group Health Plan Inc. in St. Louis. He also served in international senior executive positions at Miles Laboratories/Bayer AG.
Michael Neidorff dedicates significant time to civic organizations. He is a board member of the National Urban League and served as its chairman from 2014-2019. In 2015, he was inducted into the Hall of Fame for Junior Achievement of Greater St. Louis. He served as a member of the board of directors for the Greater St. Louis Boy Scouts of America since 1990, serving as Pathfinder district chair, vice chairman and chairman of the Special Needs Committee, vice president of Finance, and council president. Mr. Neidorff is a member of the board of trustees for Trinity University in San Antonio, Texas, his alma mater, and previously served as chairman of the board.
Community Involvement and Recognition
Having an appreciation for the arts, Mr. Neidorff is also involved with several major arts institutions. He sits on the board of the St. Louis Symphony Orchestra, where he previously served a term as chairman and is currently a trustee on its Endowment Committee. As a trustee for the Opera Theatre of St. Louis, he serves on the Institutional Development Committee and previously served as a vice chairman. Mr. Neidorff serves as Treasurer of the John F. Kennedy Center for the Performing Arts Board of Trustees and member of the International Committee on the Arts. He previously served the Kennedy Center as a 2005 trustee, vice chairman of its Fund Board, chairman of the Education Committee, and co-chair of the International Committee on the Arts.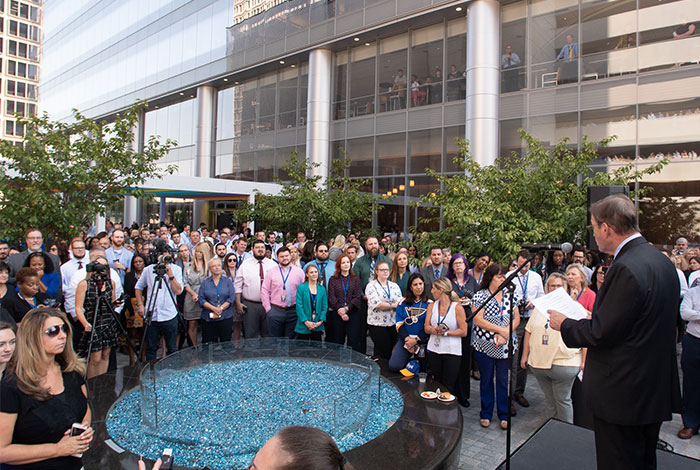 Michael Neidorff speaks in front of Centene Corporate Headquarters in Clayton, MO.
Michael Neidorff has been recognized by multiple organizations for his business leadership as well as his community and civic involvement. He was named one of the "100 Most Influential People in Healthcare" by Modern Healthcare magazine in 2018 and 2019. In January 2020, he and his wife, Noémi Neidorff, received the Whitney M. Young Humanitarian Award from the Urban League of Metropolitan St. Louis and Saint Louis University. In 2019, he was honored at the St. Louis Business Journal's C-Suite Awards for his contributions to business and the St. Louis community. He was honored with the St. Louis Post-Dispatch Citizen of the Year Award in 2017.
Mr. Neidorff holds a bachelor's degree from Trinity University and a master's degree from St. Francis College. He lives in St. Louis, with his wife, Noémi. They have two children.
More Information About Michael Neidorff