Centene is committed to being a good steward of the earth. As the leader in government-sponsored healthcare, we work with the nation's most vulnerable populations, helping them access high-quality care. Therefore, we uniquely understand that our members and their families often experience the most harmful impacts of climate and environmental damages. That is why our focus on environmental performance and sustainability is a large part of our day-to-day business operations. From the energy-efficient buildings that house our operations, to our enterprise-wide recycling initiatives, Centene cares about protecting our planet and environment.
Where We Work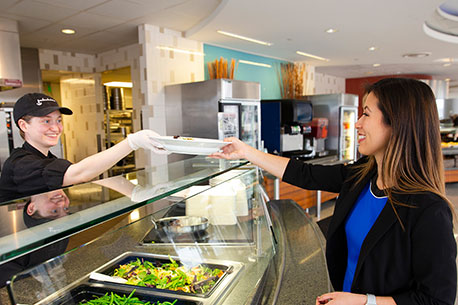 Centene's Bistro Cafés offer a full range of nutritional meal options that support human health and sustainable high performance, from the farm to the fork.
 
The connection between food, health and the environment is evident.
Centene provides high-quality dining and catering services at several of its office locations across the U.S. Employees enjoy healthy meal selections for breakfast and lunch, and delicious and nutritional catering options for meetings and special events.
Centene's food service partner, Guckenheimer, sources food locally, in-season and organically whenever possible.
Each café uses a full line of eco-friendly plates and utensils, reusable or 100% compostable.
Guckenheimer also uses eco-effective systems to convert waste into renewable resources, such as turning food scraps into compost for local farms and converting cooking oils and grease into biofuels. In 2017, Centene's corporate office in St. Louis composted an estimated 361,000 pounds with our food waste diversion program. 
How We Work
Centene's fleet of energy-efficient Xerox devices help reduce our energy and carbon footprint. The print devices provide system controls that track usage, capture costs, and identify areas for improvement. Today, our entire workforce has been converted to Managed Print Services, resulting in secured and efficient printing that contributes to a reduction in paper use, solid waste and energy consumption.
As We Grow
As Centene expands its geographic footprint across the U.S., the buildings that house our various operations also demonstrate our commitment to minimizing the impact to the environment. Sustainability efforts concerning site construction focus on minimizing environmental impact from construction.
Centene's building partner, Clayco, has worked on seven major Centene construction projects, including two service centers in Farmington and Ferguson, Missouri, and Centene's global headquarters building and campus expansion projects in St. Louis. Construction of each project utilized a Sustainable Action Plan that helps monitor design, estimation and documentation of sustainable efforts. At each step, the Action Plan checklist is implemented at the preconstruction, subcontractor, procurement, construction and final close-out phases.
Sustainable construction highlights include: 
Builders divert 50-75 percent of generated concrete, steel, cardboard, plastic, drywall and paper construction waste from regional landfills.
Stormwater quality improvements are designed to remove over 80 percent of the total suspended solids within the retention ponds through use of vegetative roofing materials.
Nearly 30-40 percent recycled material is used for building materials, such as structural steel, metal decking, metal studs, drywall and admixtures to concrete.
Energy-efficient envelope HVAC systems and lighting systems which operate well below energy code standards.
The campus of Centene's global headquarters features two LEED Gold Certified buildings with more than 36,000 square feet of vegetated roof, and over 3,000 square feet of native plantings. The rooftop green space reduces storm water runoff while decreasing energy consumption and reducing the heat island effect.