In partnership with Keep America Beautiful®, employees from Centene subsidiary WellCare pitch in to help clean up portions of the public beach along the Courtney Campbell Causeway in Tampa Bay, Florida.
At Centene, we believe the health of our planet is essential to the well-being of our members, employees, and the communities we serve. We are committed to being good stewards of the earth by making investments today that will deliver health benefits for years to come.
While climate change impacts everyone, its results are often more dangerous for those who are disproportionately vulnerable due to poor health and limited access to fresh food, reliable transportation, and safe housing.
Life-threatening weather events have the potential to displace thousands, and poor air quality negatively affects individuals with respiratory diseases such as asthma.
Transformational change led by businesses, government agencies, and communities will reduce environmental health risks and create a resilient and livable future for all.
Environmental Impacts on Health
As the leader in government-sponsored healthcare, we work with the nation's most vulnerable populations, helping them access high-quality care. Therefore, we uniquely understand that our members and their families often experience the most harmful impacts of climate and environmental damages. That is why our focus on environmental performance is a large part of our day-to-day business operations. From the energy-efficient buildings that house our operations, to our enterprise-wide recycling initiatives, Centene cares about protecting our planet and environment.
Centene works with community-based organizations and healthcare partners to evaluate local environmental risks on the health of our members. These collaborations also explore actions that we can take to improve outcomes. 
Centene's work in this space extends to how we address non-medical barriers to health. On issues like housing, Centene has worked with partners like the Habitat for Humanity in Georgia and Prospera in Texas to provide housing for members that meets environmental review standards for pollution reduction and sustainability.
Learn more about our commitment to Environmental Impacts on Health.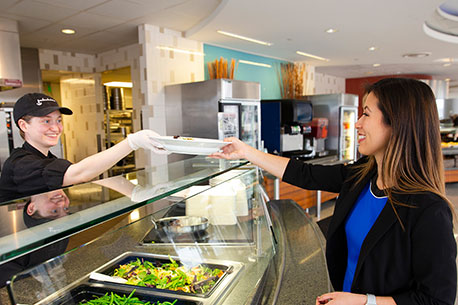 Centene's Bistro Cafés offer a full range of nutritional meal options that support human health and sustainable high performance, from the farm to the fork.
 
The connection between food, health, and the environment is evident.
Centene provides high-quality dining and catering services at several of its office locations across the U.S. Employees enjoy healthy meal selections for breakfast and lunch, and delicious and nutritional catering options for meetings and special events.
Centene's food service partner, Guckenheimer, sources food locally, in-season, and organically whenever possible.
Each café uses a full line of eco-friendly plates and utensils, reusable or 100% compostable.
Guckenheimer also uses eco-effective systems to convert waste into renewable resources, such as turning food scraps into compost for local farms and converting cooking oils and grease into biofuels. In 2017, Centene's corporate office in St. Louis composted an estimated 361,000 pounds with our food waste diversion program.