Creating Health Equity
Many factors contribute to an individual's health and wellness beyond access to medical care. Socioeconomic conditions can influence health risks and outcomes. Poverty, food insecurity, housing instability, education, employment, access to transportation, and other circumstances contribute to health disparities among underserved and vulnerable populations.
Nationwide Initiatives
Centene is a leader in providing affordable, high-quality healthcare services, and we're continually enhancing our robust efforts to address social determinants of health. The company's long history of identifying and removing barriers to health is present in states where we operate health plans. 
Initiatives marked on the national map below highlight some of the promising practices and partnerships that are improving outcomes.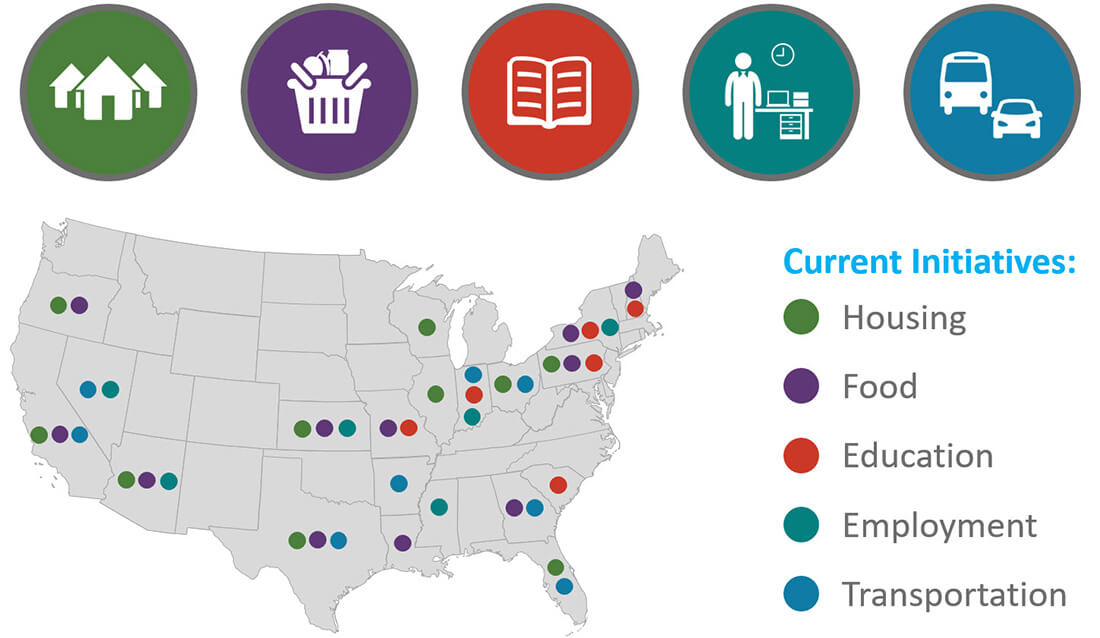 Innovation Team
Social determinants of health have gained recognition in recent years, but Centene has acknowledged their impact on health outcomes since our founding. Our Social Determinants of Health Innovation team works closely with health plan and subsidiary leadership to support efforts designed to address social determinants of health across all Centene products and membership. The team addresses barriers to healthcare through transformative pilot programs that test new models of care.
External Partnerships 
The Centene Center for Health Transformation™ fosters research collaborations, demonstrates thought leadership, and initiates innovative new programs. The Center aims to advance health solutions to improve lives so that communities can thrive. The partnership leverages academic research expertise and Centene's industry resources to create and implement evidence-based innovations to improve the health outcomes of vulnerable populations across the country. 
During the COVID-19 pandemic, Centene partnered with Feeding America® on national initiatives enabling cross-sector collaboration at the local level. The best practice guidelines were developed to improve Supplemental Nutrition Assistance Program (SNAP) application assistance. Additionally, the creation of national guidelines for medically and culturally tailored food boxes helped provide the right nutrition for those suffering from chronic diseases. This work, completed in 2021, ensured better collaboration between Centene health plans and local food banks in the Feeding America network, resulting in improved nutrition and health outcomes while streamlining and enhancing our shared efforts to address food insecurity.
Community Access
Across multiple states, Centene health plans have implemented community-integrated social services technology platforms to connect members with community benefit organizations. The platforms enable real-time information sharing and centralized access to community support systems, helping members access resources for improved health and quality of life.
Buckeye Health Plan, Centene's Ohio subsidiary, participates in the Pathways Community Hub partnership to identify and address barriers to care for vulnerable individuals. By connecting members to community supports and resources via the Hub, Buckeye Health Plan has significantly improved birth outcomes for women most at risk of low birthweight deliveries, reducing NICU admissions.
In California, Health Net launched two community resource centers in East Los Angeles and Sacramento, focusing on educating and connecting community members to essential supports. Open to the public, the community resource centers assist with benefits navigation, facilitate access to health services, list community programs, and host educational workshops and social activities for the community.