Centene is committed to the physical, mental, emotional, and financial health of our employees. To aid employees through life events, Centene offers employees a variety of assistance, reimbursement, and discount programs.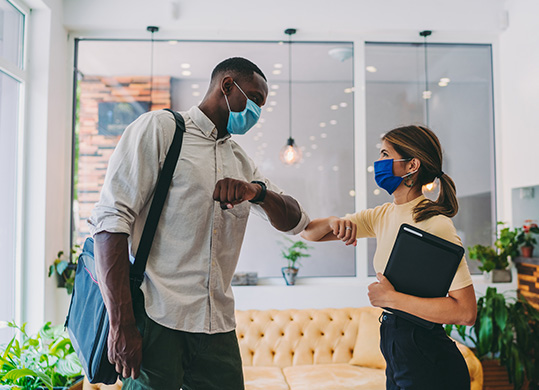 Centene's dedicated employee wellness program, Healthy Pathways, offers health risk assessments, individual coaching, diabetes management, and online programs tailored for stress reduction, nicotine cessation, and living an active lifestyle, among many others.
The health and safety of our employees is our uncompromising concern, and when COVID-19 presented an extraordinary threat to the health of Centene's workforce, we moved quickly to provide the vast majority of our employees with remote working capabilities. Centene has prioritized sharing information from trusted public health leaders, including the Centers for Disease Control and Prevention (CDC) and the World Health Organization (WHO). We are continually evaluating our offices and facilities to identify the best ways to employ safety measures going forward.
In the face of the unprecedented health event that the pandemic presented, our employees never lost sight of our goal to deliver the best possible care for our members. Centene introduced "Working From Here" – a destination for enhanced COVID-19-specific resources designed to help employees take care of their whole health, while upholding the continuity of care for those we serve.
Learn more about our commitment to Employee Health and Well-being.
Centene employees and people leaders came together to exchange best practices for caretaking during the pandemic, including hosting fireside chats on Parenting During the Pandemic, Emotional Health, and Day of Dialogue discussions related to social justice.