Environmental sustainability is a large part of Centene's day-to-day business operations. We pursue opportunities to minimize our impact on the environment. From the energy-efficient buildings that house our operations to our enterprise-wide recycling initiatives, and now, our hybrid and remote work culture, Centene cares about protecting our environment.
Employees and Environmental Stewardship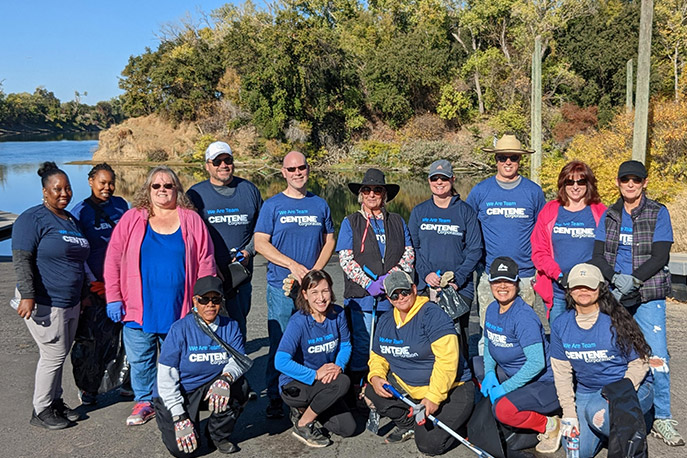 Environmental sustainability is core to our culture as evidenced through the actions of our employees who engage in various eco-friendly efforts, such as recycling and planting gardens in their communities, which not only benefits the environment, but also provides access to fresh, unprocessed foods that promote health and well-being.
Centene partners with local communities, nonprofit organizations and other businesses to create positive environmental impact. As part of The Centene Charitable Foundation's partnership with American Rivers, an organization that protects rivers and conserves clean water, Centene employees have opportunities to demonstrate environmental stewardship. In 2022, employees collected litter during the Protect Our Planet Virtual Cleanup Challenge. Participants explored their neighborhoods to clean up litter from sidewalks, parks, and waterways, and then uploaded photos of each piece of litter into a record-keeping system in a mobile app. Additionally, employees in Sacramento, California, supported the American Rivers National River Cleanup® initiative by collecting more than 1,200 pounds of trash from Discovery Park, which is where the American River meets the Sacramento River.
Remote Workforce
A majority of our employees work remotely. A result of this enhanced workforce flexibility is a reduction in daily employee commuting and the need for physical office space, which both lead to lower emissions and energy consumption.

Sustainable Partnerships
EcoServ by InstallNET
When making facility changes or office downsizing, Centene works with programs like InstallNET's EcoServ to resell, reuse, and recycle office furniture for buildings or office spaces no longer in use. With the activation of talent hubs over the past year, the EcoServ team has helped Centene divert over a half million pounds of waste from the landfill.
Guckenheimer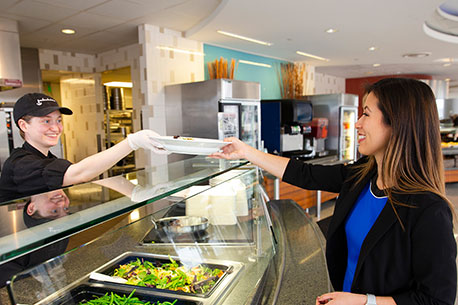 Centene's Bistro Cafés offer a full range of nutritional meal options that support human health and sustainable high performance, from the farm to the fork.
The connection between food, health, and the environment is evident.
Centene provides high-quality dining and catering services at several of its office locations across the U.S. Employees enjoy healthy meal selections for breakfast and lunch and delicious and nutritional catering options for meetings and special events.
Centene's food service partner, Guckenheimer, sources food locally, in-season, and organically whenever possible.
Each café prioritizes the use of a full line of eco-friendly plates and utensils, reusable or 100% compostable.
Guckenheimer also uses eco-effective systems to convert waste into renewable resources, such as turning food scraps into compost for local farms and converting cooking oils and grease into biofuels. 
One building on our St. Louis campus initiated a compost tracking system in 2021 and logged an estimated 21,000 pounds of composted waste during the tracking period through our food waste diversion program.
Centene understands that health is driven by the conditions in which we were born, grow, live, work, and age. Sustainability forms a key part of our work in social responsibility. Find out more about our work in sustainability along with our other social responsibility focus areas.